If you are having trouble downloading a pattern you purchased, please hit the contact button at the bottom of the page and I will email the pattern to you. Thank you.
If you know me and live locally in the Edmond OKC area and want to arrange to pick up your order, enter coupon code LOCAL at check out and you won't be charged shipping.
I'm slowly changing all my products to calculated shipping. When you order more than one product, the shipping adds together, I will refund any overcharged shipping. If you prefer, you can contact me to make you a custom listing of all you want to order.
Some made to order items may not be active as I edit my website. Thank you for understanding.
Jessica King from "So You Think You Can Dance" Season 4 is wearing the mermaid blanket with mama fin in Lagoon. Photo credit goes to Jessica King. Creative Art Expressions Hand Crocheted Adult & Teen Mermaid Blankets are made to order! Choose your color from the drop down list after you have viewed the 2nd photo of all the color options. Several of the colors of yarn have gone up in price for me, that is why you will see some price increases if you choose certain colors. If you want to see the colors more clearly, I have a gallery of the colors here: Lion Brand Homespun Colors. The yarn is ordered when I receive your order, so the color you choose is not guaranteed to be in stock. If you choose a color that isn't in stock, I will contact you and you can choose another color or receive a full refund. You can also visit my mermaid blanket gallery for pictures of mermaid bIankets I have made.
Please allow 2 weeks for me to receive the yarn and complete your blanket. I will let you know when your blanket has shipped. The adult sized mermaid blanket is about 60" or more in length without the fin, The top width of the blanket is about 41". The bottom of the cocoon where your feet go is about 9" wide. At the bottom of the slit, it is about 19" wide and tapers down to the 9" at the bottom. The blanket does have some stretch to it, so it can stretch a little wider than those measurements. Don't forget to choose your fin size. There are 3 options available: small, large and momma sized (extra large). They are pictured in the 3rd picture. The smaller the fin, the tighter the crochet. The extra large fin has a very loose crochet to it. It is machine washable and dryable. Here is a close up photo of a blanket I've made.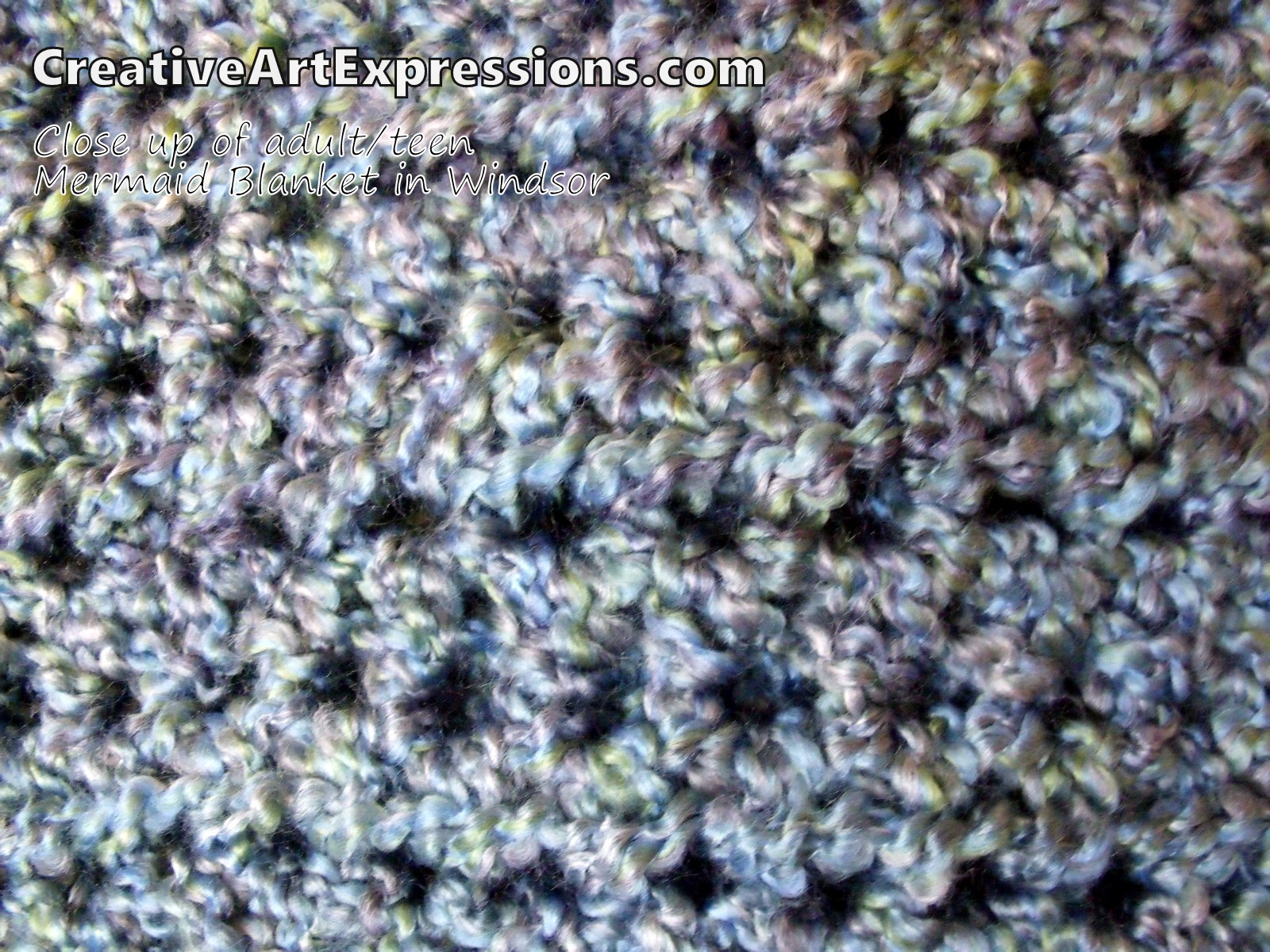 If you are looking for a thicker blanket, special order it here with a thicker yarn: Thick Mermaid Blanket. All the photos I use are of blankets I have made. When you order an adult/teen mermaid blanket you can get scarves for 50% off. Just add the scarves you want and enter coupon code SCARVES50 at checkout.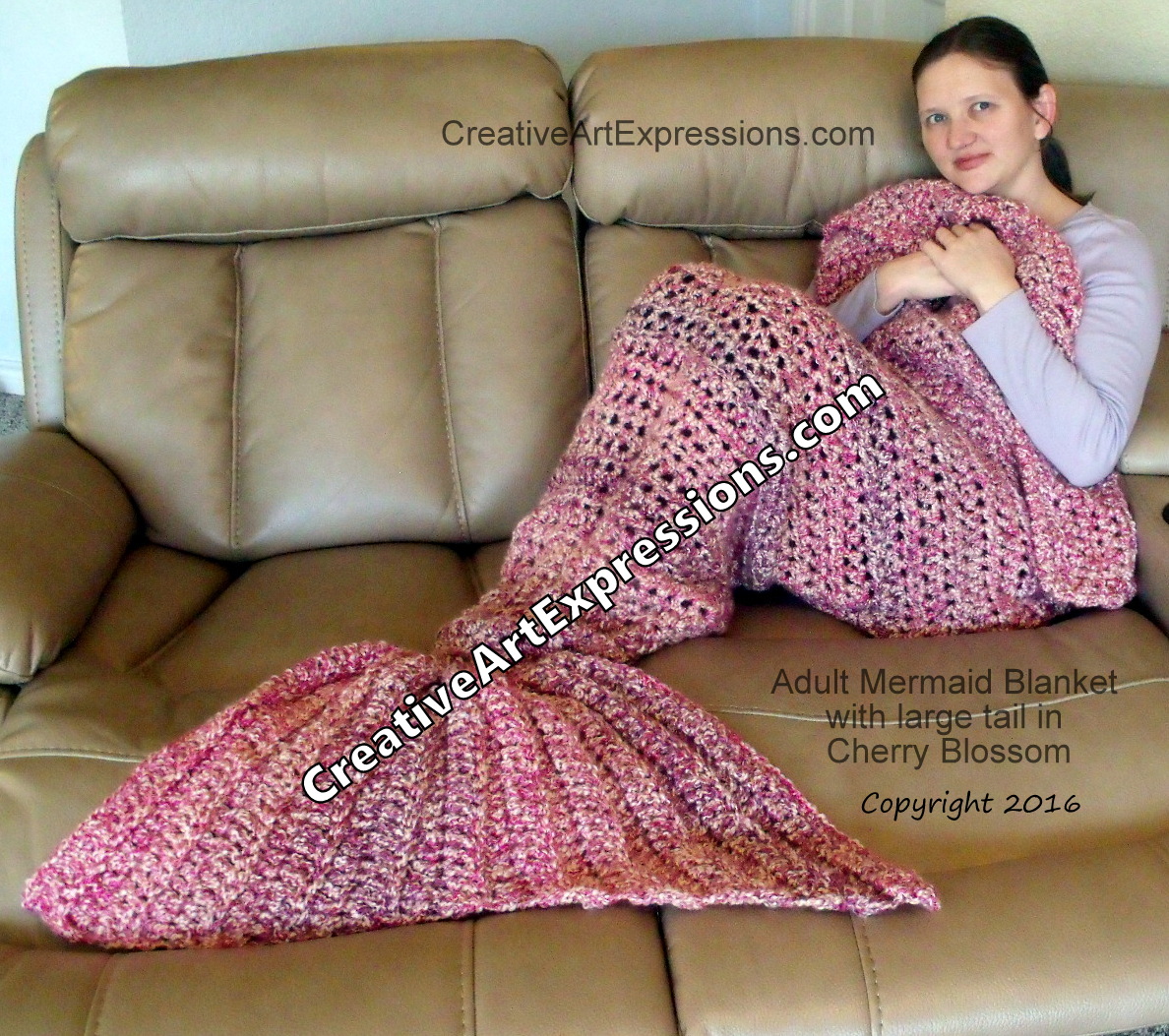 *You have the option to add a doll mermaid blanket to your order for $25.00. That saves you $5.00 off the price if you were buying a doll blanket without the adult blanket. The doll blanket will be made to match the adult blanket unless you let me know in the comments that you want the doll blanket in a different color. Below is a picture of a doll blanket. It fits a size 18" doll.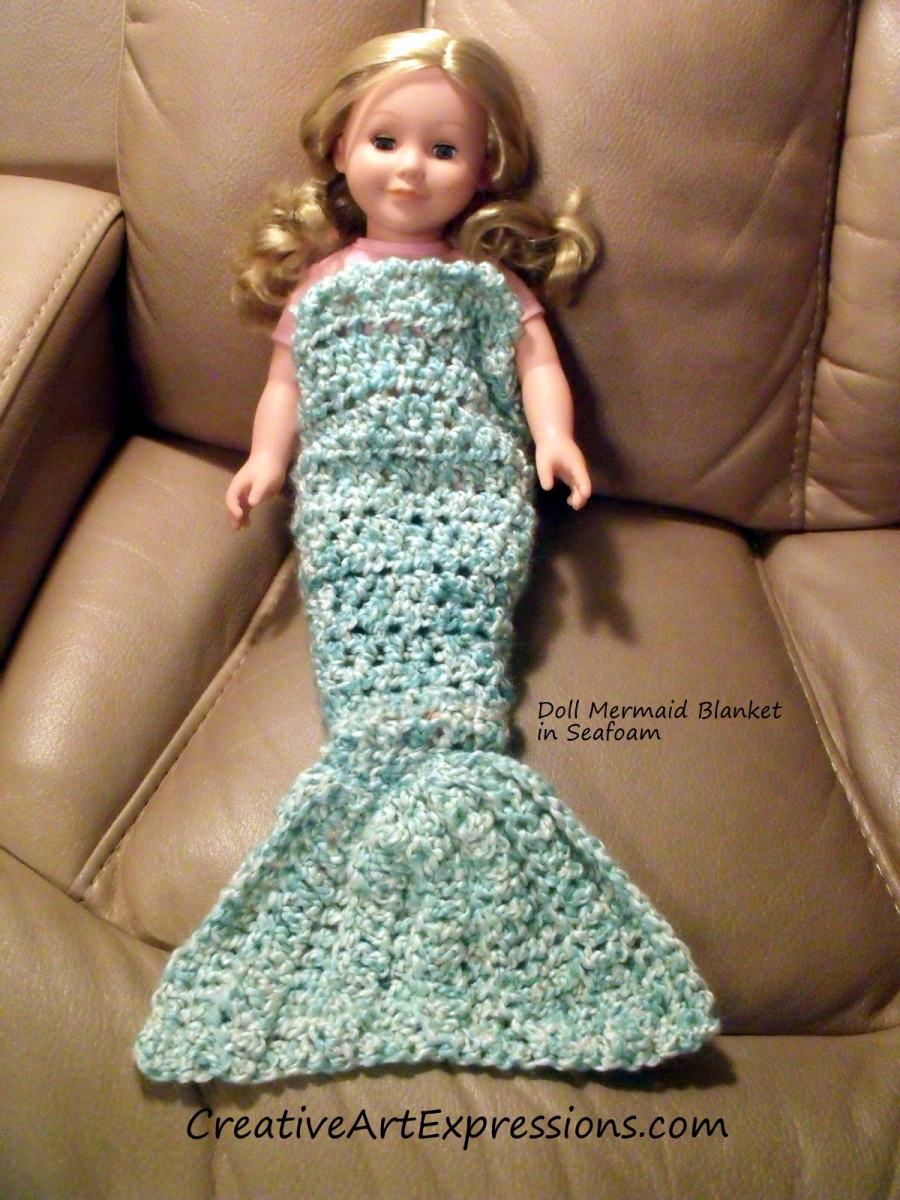 * To view more pictures of the mermaid blanket visit my facebook page: Creative Art Expressions Facebook
*Order your child size mermaid blanket here: Creative Art Expressions Hand Crocheted Made To Order Child Size Mermaid Blanket
Thank you for looking. Please contact me with any questions.
Pattern by MJ's Off The Hook Design available here:
http://www.ravelry.com/patterns/library/bulky--quick-mermaid-blanket