If you are having trouble downloading a pattern you purchased, please hit the contact button at the bottom of the page and I will email the pattern to you. Thank you.
If you know me and live locally in the Edmond OKC area and want to arrange to pick up your order, enter coupon code LOCAL at check out and you won't be charged shipping.
I'm slowly changing all my products to calculated shipping. When you order more than one product, the shipping adds together, I will refund any overcharged shipping. If you prefer, you can contact me to make you a custom listing of all you want to order.
Some made to order items may not be active as I edit my website. Thank you for understanding.
Creative Art Expressions Hand Crocheted Adult & Teen Mermaid Blanket in Island Time (Seafoam, light blue, green) is made to order. It is made with Yarn Bee Fireside Yarn. It is machine washable, not above 40 degrees Celsius or 104 degrees Fahrenheit, and dryable.
This mermaid blanket is about 60" in length without the fin, The top width of the blanket is about 40". The bottom of the cocoon where your feet go is about 8" wide. At the bottom of the slit, it is about 18" wide and tapers down to the 8" at the bottom. The blanket does have some stretch to it, so it can stretch a little wider than those measurements. Here is a close up photo of this blanket.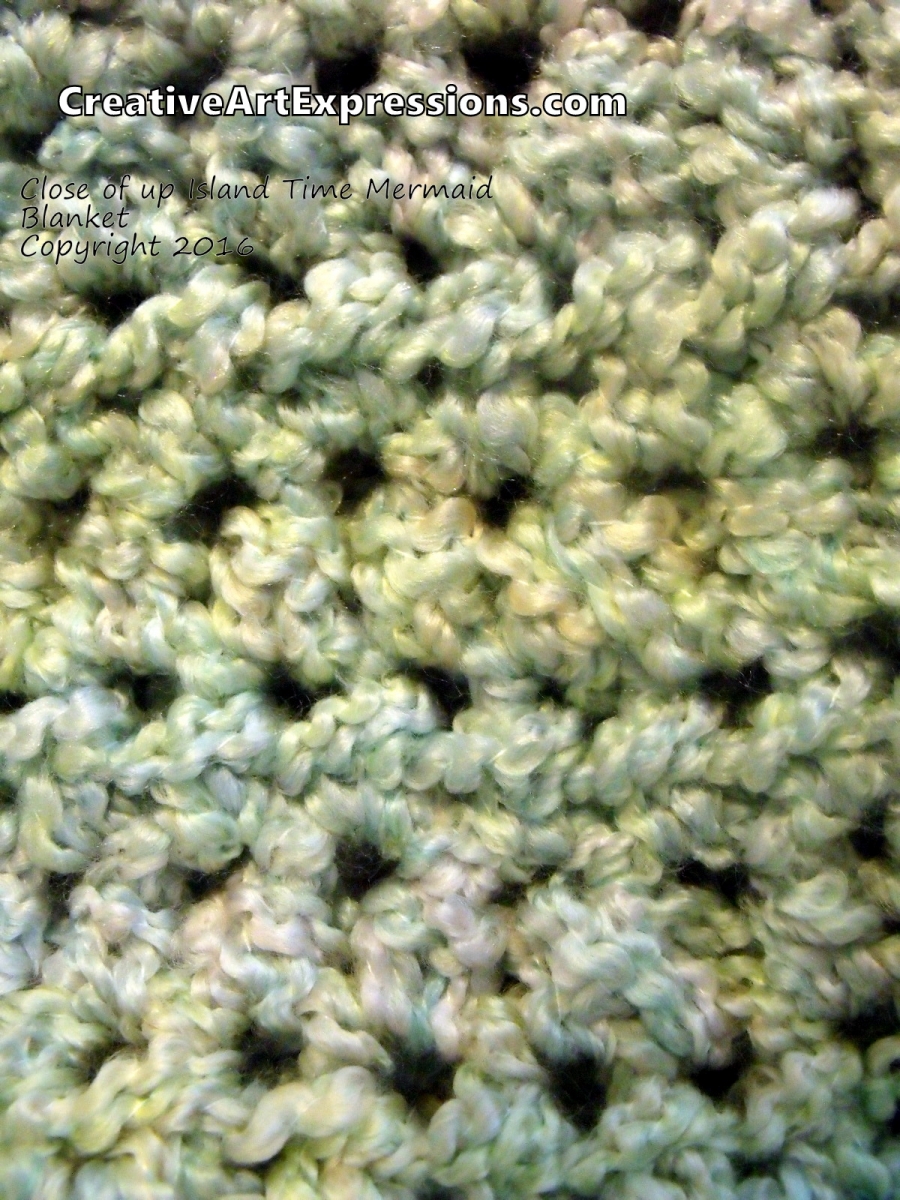 If you are looking for a thicker blanket, special order it here: Thick Mermaid Blanket. All the photos I use are of blankets I have made. When you order an adult/teen mermaid blanket you can get scarves for 50% off. Just add the scarves you want and enter coupon code SCARVES50 at checkout.
* To view more pictures of this mermaid blanket visit my facebook page: Creative Art Expressions Facebook
*View other hand crocheted blankets for sale here: Creative Art Expressions Hand Crocheted Blankets
View all ready to ship items here: Ready to Ship
Please contact me with any questions.
Pattern by MJ's Off The Hook Design available here:
http://www.ravelry.com/patterns/library/bulky--quick-mermaid-blanket