I am in the process of making my website more mobile friendly, so you may find links that don't work. When this happens please use the search to find what you are looking for. Sorry for any inconvenience. Thank you for understanding.
Toddler, Preschool, Mermaid Blanket, Crocheted, Luxuriously Soft, Crocheted, Made To Order, Doll Mermaid Blanket
$93.00
Creative Art Expressions Hand Crocheted Preschool Mermaid Blankets are made to order! Choose your color from the drop down list after you have viewed the 2nd photo of all the color options. The yarn is bought when I recieve your order, so the color you choose is not guaranted to be in stock. If you choose a color that isn't in stock, I will contact you and you can choose another color or receive a full refund. If you want to see the colors more clearly visit this album on my facebook page: Yarn Bee Fireside Color Choices. You can also visit my mermaid blanket gallery to see pictures of mermaid blankets I have made. Please allow 2 weeks for me to receive the yarn and complete your blanket. In many cases, I will get it done and shipped out well before 2 weeks, depending on how many orders I have at the time. I will let you know when your blanket has shipped. The preschool size mermaid blanket is about 34" or more in length without the fin and about 29" or more wide. It is machine washable and dryable, however I recommend air drying it to keep the fuzziness down. All the photos I use are of blankets I have made.
*You have the option to add a doll mermaid blanket to your order for $25.00. That saves you $5.00 off the price if you were buying a doll blanket without the child blanket. The doll blanket will be made to match the child blanket unless you let me know in the comments that you want the doll blanket in a different color. Below is a picture of a doll blanket. It fits a size 18" doll.
*Note: Doll is not included.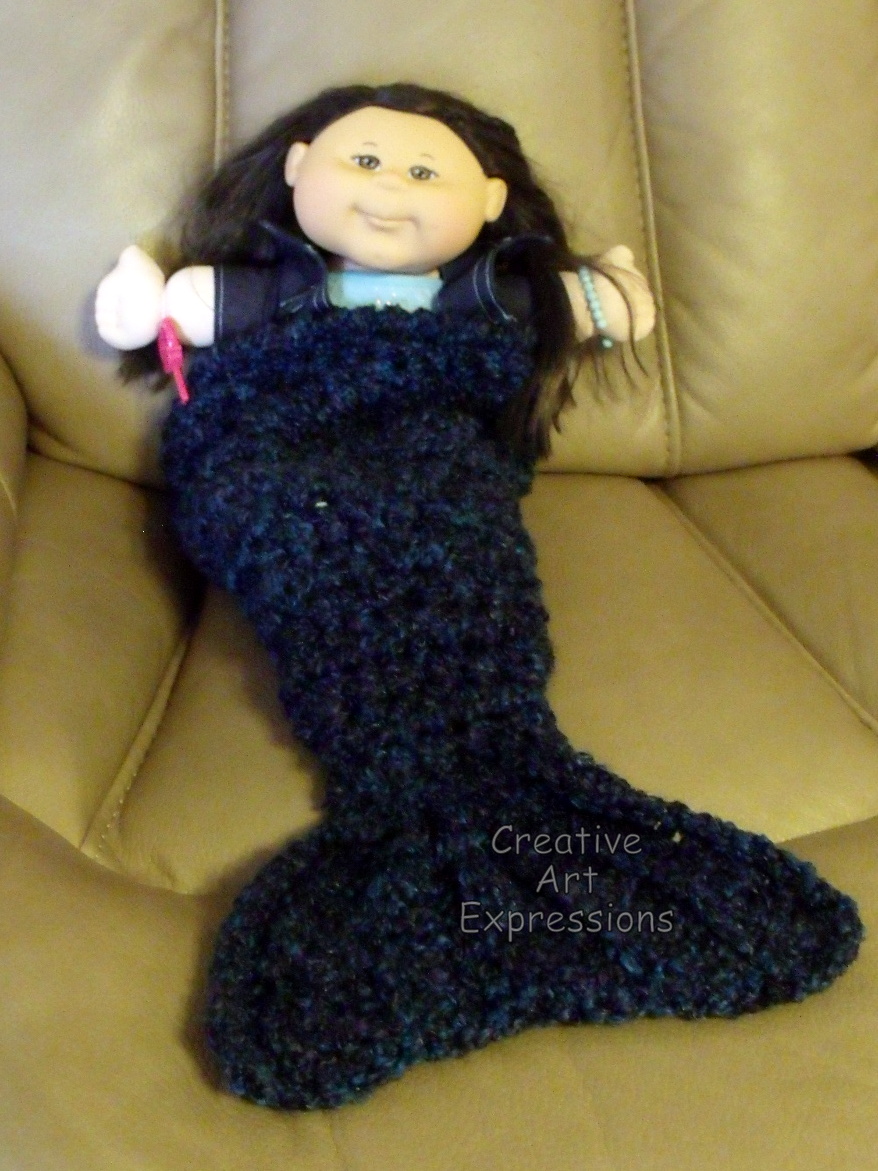 Thank you for looking. Please contact me with any questions.
View all blankets for sale here: Blankets
View my complete store here: Store
Pattern by MJ's Off The Hook Design available here:
http://www.ravelry.com/patterns/library/bulky--quick-mermaid-blanket